How awesome was it to wake up to a Flickr message congratulating me on making it into the 4th group for the Pioneer Woman contest!  This is seriously one of my favorite shots.  I just LOVE the bokeh and the fact that one of her front teeth are waaaaay bigger than the other! hehe
My entry for this weeks I heart faces photo challenge.  This kid is such a fun smiley boy but when it comes to pics he's usually pouting or smirking.
i heart faces – vroom vroom
i heart faces – got to wear shades
My entry for this week's I Heart Faces photo challenge.  This pic totally shows off Julian's personality!
Don't forget to enter!

This is for the Willette Eyes Challenge.  I so love this picture of my little Lukas on his bday.  I don't get many pics of him smiling any more…the terrible two's have taken over my sweet baby!
Obviously this is one of my favorite pics, I've shared it on the blog recently.  Well, this weeks I Heart Faces photo contest theme is "Surprise" and I immediately thought of this picture.  This kids is always getting caught with his hands in the frosting…doesn't matter who's cake it is! LOL!
Finally!  A picture of all of my kids together!  I haven't gotten a shot of them together since I did the pics for our xmas cards last year.  I've been dying to get a shot worthy enough to be printed out HUGE so that I could display it proudly on my living room wall.  This is it!  And the other two below are hung up right next to this one.  I've been trying to redo my house, hopefully I can post a few pics of it soon.  Figures, I forgot to take "before" shots.
You would not believe how much work this shot was.  And the main culprit giving me the trouble was the littlest monster.  Man, I've got my hands full with that one.  I thought the curly haired cutie was going to make me loose it.  But little Lukas has topped them all!  I guess his big bros taught him well…and he took it to a whole new level! LOL!
Niko is a total sweetheart and I'm about to loose him to kindergarten…sniff sniff.  He is such a lovable kid and my little helper.  He's pretty nervous to go to school so that's making it harder on me…yeah, I said "me"!  The only time I've been away from him is when I had his brothers or when he sleeps over at his aunt's house.  Ok, so I'm definitely the one having a harder time with him starting school!  You can't blame me, I haven't sent one of my kids off to kindergarten in about 9 years…yup that means my daughter is going into 8th grade!  High school next year…help!
I love this shot of Julian!  It's his classic pouty face.  I'd say he looks like this in 90% of the pics I've taken of him.  He just likes to be, how should I put this…difficult!  Pretty much he wants to do the opposite of what you want him to do (doesn't sound like me at all!
.  So, I need to remember that if I want him to smile I need to tell him not to!
I came across this lovely little blog called The Paper Mama this week. I've been on the hunt for sites that host photo contests. These contests have been so inspiring to me. I've gotten some great shots that I probably wouldn't have otherwise taken. So the theme for the contest is absolute favorite and I LOVE this picture! I know I've posted it on my blog before but I had to share it again! If you love it
i heart faces challenge-real men wear purple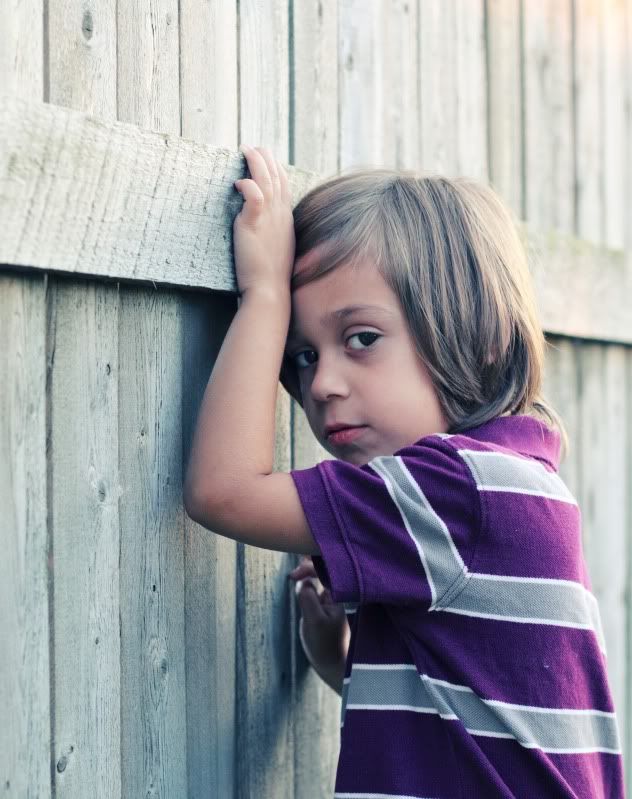 My entry for this weeks purple challenge for I Heart Faces.
Improve the web with
Nofollow
Reciprocity
.